Featured Initiatives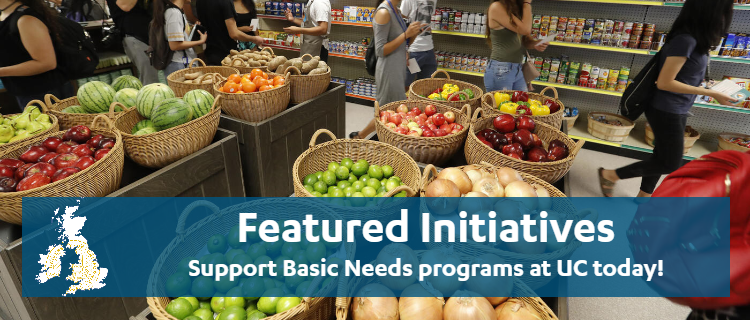 The University of California constantly strives to serve society through its research and public service initiatives. These programs not only benefit those who learn and serve at UC campuses, but provide vital contributions to local and global communities within education, medicine, technology, and more. Here are some of the many initiatives you can support at the UC campuses!
On this page, you will find a selection of campus initiatives we have chosen to highlight.
Basic Needs Initiatives at UC Campuses
The University of California is proud to serve communities not traditionally served by other universities. As part of this, the UC system hosts one of the most economically diverse student bodies in the Unites States. For example:
As the United States is increasingly affected by the Cost of Living Crisis, however, our students need more support than ever. Although the campuses are increasing their efforts to assist students in need, we find that there is still work to be done. Pre-pandemic research shows that one in four UC students often have to choose between paying for food or school supplies. Additional studies indicate that 30% of students experience food insecure and 10% have experienced homelessness. As students return to campus for a new school year, we want to ensure that no student has to worry about hunger or housing. This quarter we are highlighting UC funds to support student food insecurity and emergency housing. 
The funds below are all collaborations with the
Global Food Initiative
, started in 2014 by UC President Janet Napolitano. The Initiative works with Food Pantries and Basic Needs Centers systemwide to solve hunger in the student community and understand food insecurity on a global scale. As such, the Initiative houses a number of projects focusing on:
Working with local organizations to increase access to food and housing 
Offering resources on emergency housing and free meals  
Providing a cost-of-living stipend and financial support to students in need 
Offering courses to students on nutrition and healthy financial habits  
If you'd like to learn more about each of the funds set up to support these healthcare efforts at the UC campuses, please click the links below:
We thank you for supporting these important initiatives in your UC community.
---
Study Abroad Scholarship Funds at the UC campuses
The University of California Trust (UK) supports student study abroad scholarship funds year-round. To hear how study abroad scholarships has positively affected the lives of UC students, read their testimonials
here
.
We thank you for supporting these important initiatives in your UC community.