Featured Initiatives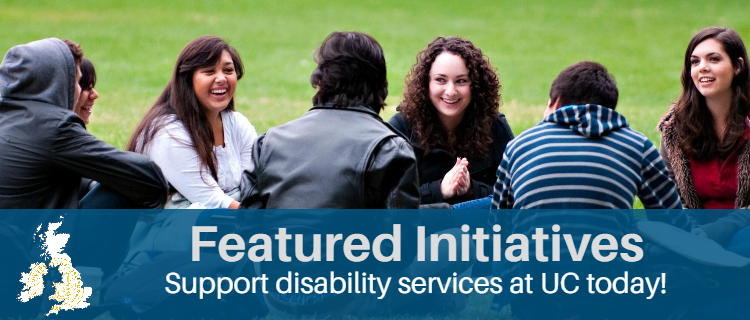 The University of California constantly strives to serve society through its research and public service initiatives. These programs not only benefit those who learn and serve at UC campuses, but provide vital contributions to local and global communities within education, medicine, technology, and more. Here are some of the many initiatives you can support at the UC campuses!
On this page, you will find a selection of campus initiatives we have chosen to highlight.
Disability Services
At the University of California, we aim to empower students to help them maximize their skills and achieve their goals. For some students, however, negotiating university life and academic environments can be more challenging without support. Last year at UC Berkeley,
12% of the student population
sought assistance from their Disabled Students' Program.
Students with disabilities arrive at UC campuses with the skills, knowledge, and ambition needed for success. Fostering a culture of inclusion and equity is at the heart of UC's mission, which we aim to meet through increasing accessibility and inclusive learning. The disability programs on campus assist students and faculty through:
Increasing disability awareness

Learning support
Specialized Autism spectrum services
Career services
Transitioning from high school to college
Assisting students with mobility issues 
Assistive technology 
Mental health services
A major strength of UC lies in our diverse community, and we believe students with a range of experiences and abilities should have the opportunity to contribute to UC. Together, we can foster an equitable society, in which each student has the opportunity to thrive.
If you'd like to learn more about each of the funds set up to support students and faculty with disabilities at the UC campuses, please click the links below:
---
Study Abroad Scholarship Funds
The University of California Trust (UK) supports student study abroad scholarship funds year-round. To hear how study abroad scholarships has positively affected the lives of UC students, read their testimonials
here
.
We thank you for supporting these important initiatives in your UC community.