Featured Initiatives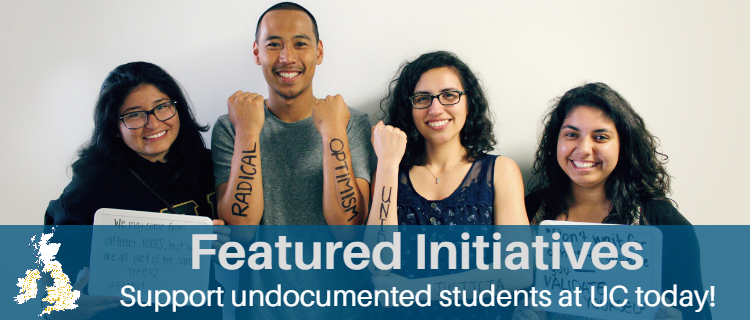 The University of California constantly strives to serve society through its research and public service initiatives. These programs not only benefit those who learn and serve at UC campuses, but provide vital contributions to local and global communities within education, medicine, technology, and more. Here are some of the many initiatives you can support at the UC campuses!
On this page, you will find a selection of campus initiatives we have chosen to highlight.
Support for Undocumented Students at UC campuses
The University of California welcomes and supports students without regard to their immigration status. UC will continue to admit students in a manner consistent with our non-discrimination policy and without regard to a student's race, color, national origin, religion, citizenship or other protected characteristic. In other words, undocumented applicants with or without DACA status will be considered for admission on the same basis as any U.S. citizen or other applicant.
The vast majority of UC's undocumented students have lived in California for most of their lives, many growing up the same way any other American would. Approximately 100,000 undocumented students graduate from high school in the US annually and 27% of them call the state of California their home. Across UC, undocumented students are more likely to experience financial and mental stress with 96% reported worrying about not having enough money and 50% reported worrying about the deportation of a family member or themselves weekly.
The state of California has made significant efforts over the last twenty years to increase undocumented student access to higher education. Some of the ways UC works to promote equity for undocumented students include offering:
Immigration legal services 
Grocery vouchers
Specified counseling 
Career support 
Educational scholarships
Healthcare
A major strength of UC lies in our diverse community, and we believe students with a range of experiences and abilities should have the opportunity to contribute to UC. Together, we can foster an equitable society, in which each student has the opportunity to thrive.
If you'd like to learn more about each of the funds set up to support students and faculty with disabilities at the UC campuses, please click the links below:
---
Study Abroad Scholarship Funds
The University of California Trust (UK) supports student study abroad scholarship funds year-round. To hear how study abroad scholarships has positively affected the lives of UC students, read their testimonials
here
.
We thank you for supporting these important initiatives in your UC community.