Quarterly Featured Funds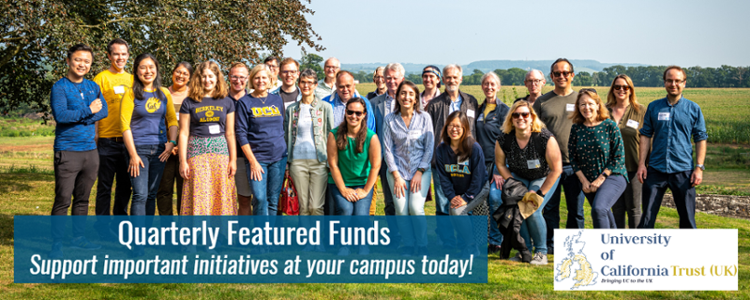 The University of California constantly strives to serve society through its research and public service initiatives. These programs not only benefit those who learn and serve at UC campuses, but provide vital contributions to local and global communities within education, medicine, technology, and more. Here are some of the many initiatives you can support at the UC campuses!
On this page, you will find a selection of campus initiatives we have chosen to highlight.
Female Reproductive Healthcare and Transgender Healthcare at the UC campuses
On Friday 24 June 2022, the US Supreme Court overturned Roe v. Wade, deciding that there is no longer a federal constitutional right to an abortion in the United States. This has sparked a wider conversation about gender and health justice and equitable healthcare policy. In addition, recent political conversations in the US have centred around the rights of trans people to receive gender-affirming healthcare. This quarter we're highlighting UC funds which support healthcare for people with uteruses and LGBTQ+ individuals.
These funds range in their support for gender and healthcare services:
Providing the highest quality care to women in every stage of life
Promoting research, education, and community engagement both globally and locally to reduce gender and health inequities
Increasing access to comprehensive, effective, and affirming healthcare services for transgender communities
Improving care for LGBTQ+ patients and their families
Conducting research to advance LGBTQ+ racial/ethnic health disparities
Providing financial assistance to students passionate for transgender health or transgender-related topics
If you'd like to learn more about each of the funds set up to support these healthcare efforts at the UC campuses, please click the links below:
Berkeley
Davis
Los Angeles
Merced
 Riverside
San Diego
San Francisco
Santa Barbara
Santa Cruz
System-Wide
---
Study Abroad Scholarship Funds at the UC campuses
The University of California Trust (UK) supports student study abroad scholarship funds year-round. To hear how study abroad scholarships has positively affected the lives of UC students, read their testimonials here.
We thank you for supporting these important initiatives in your UC community.