Quarterly Featured Funds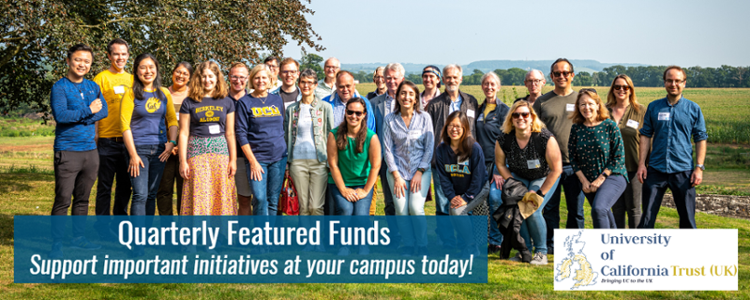 The University of California constantly strives to serve society through its research and public service initiatives. These programs not only benefit those who learn and serve at UC campuses, but provide vital contributions to local and global communities within education, medicine, technology, and more. Here are some of the many initiatives you can support at the UC campuses!
On this page, you will find a selection of campus initiatives we have chosen to highlight quarterly.
Student Healthcare Funds at the UC campuses
Healthcare has been more important than ever since the beginning of the COVID-19 pandemic. As we prepare our New Year's resolutions, and prioritise our own health, let us also support those who face financial barriers in healthcare. We are highlighting the following funds supporting student access to healthcare at the UC campuses.
These funds provide provide healthcare access to students including:
Helping students experiencing significant out of pocket expenses related to accessing healthcare (including mental health)
Assisting students who are unable or reluctant to seek prescribed medical care due to financial obstacles
Providing essential physical, mental, and emotional health services that promote confidence, accountability, and growth
Promoting quality health and education resources that foster student well-being and academic success
Supporting a healthy campus environment
Providing support to the student health and well-being programs
Vaccinating the campus community, providing free COVID testing, and supporting students in isolation and quarantine
If you'd like to learn more about each of the funds set up to support student healthcare at the UC campuses, please click the links below:
We thank you for supporting these important initiatives in your UC community.
---
Study Abroad Scholarship Funds at the UC campuses
The University of California Trust (UK) supports student study abroad scholarship funds year-round. This quarter, from November 15 - 19, we recognize International Education Week (IEW), which celebrates the benefits of international education and exchange worldwide. To hear how study abroad scholarships has positively affected the lives of UC students, read their testimonials here.
We thank you for supporting these important initiatives in your UC community.