Testimonial - Lisa Bang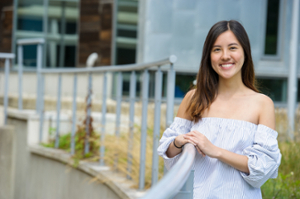 Name: Lisa Bang
Campus: UC Los Angeles
Major: Human Biology and Society
Hometown: Garden Grove, Orange County, CA 
University of California, Los Angeles student Lisa Bang spent the past summer studying physics at the University of Sussex in Brighton, England. Originally from Garden Grove, the California native experienced first-hand the challenges and rewards of studying and living in the United Kingdom – including adjusting to the serious lack of Boba tea shops; and mastering a different educational system.
"Education here is very focused. Physics majors only take physics classes. AT's (assistant teachers) are so knowledgeable and helpful. The pace can be challenging, but the program is so well-structured."
The summer program at the University of Sussex packs an entire year's worth of physics into 8 weeks. Despite the quickened pace and heavy subject matter, Lisa found her stride in the program and an aptitude for physics that she did not know she had.
"A bad mark back home would have distressed me. Here, the pace is so fast, you have to move on and keeping going. It's made me realise that I'm so much stronger than I thought."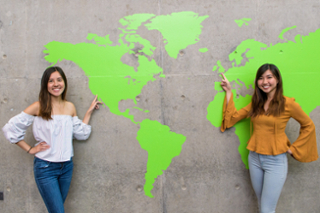 Lisa has proven her ability to adjust to a new country and a new educational system. Outside of the classroom, she's encountered different kinds of challenges, including the lack of air conditioning in one of the hottest summers on record in Great Britain in recent years.
"I expected it to be really cold," she laughs, "I brought a thick rain jacket, a huge umbrella – but it's been really hot!" She credits her adventurous spirit in helping her cope with the unsuaul heat wave, as well as with the minor stresses of travelling. Having visited other cities in England and Europe, Lisa's time abroad has allowed her to gain a greater awareness and appreciation of how others live.
"Every place you go, you learn more about people and how to be more understanding. You have to put yourself in their shoes, and try to understand why people are the way they are. You see being here, it's not that bad – it's just different."
Lisa is one of five recipients of the 2017-2018 UCLA UK Undergraduate Study Abroad Scholarship, which she called a "big blessing". The fund was launched in 2014 by UCLA's International Institute and is a priority for UCLA Centennial Campaign efforts in Europe.
Spending the summer abroad has helped Lisa to fulfil educational requirements, but also empowered her in her studies, "I was unsure of my ability in physics so I wanted to devote a whole summer to it. Being here has helped me successfully complete the physics requirement."
Although at first homesick and slightly shocked by the cultural differences between the UK and the US, Lisa got into a rhythm with her studies, travel, and living life to the fullest in England. She is grateful for the opportunity to see another part of the world, learn about different cultures and immerse herself in Great Britain's rich history.
By Violet Del Toro
---