Testimonial - Sophia Crisafulli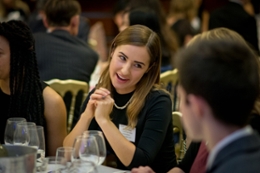 Name: Sophia Crisafulli
Campus: UC Santa Barbara, Class of 2017
Hometown: Los Angeles, CA
UCEAP Immersion Program - King's College London
Sophia Crisafulli is a third-year UCSB student studying abroad in London. She received the UCSB UK EAP Alumni Scholarship and the Duttenhaver Scholarship.
Tell us about the moment of how (and when) you found out you received the scholarships.
I found out just checking my email in the living room of my UCSB apartment. I started frantically harassing my parents with phone calls - it was the middle of the workday - but I was too excited. I just kept calling them.
They were thrilled and proud, it felt amazing to give them such good news. When I found out about the second scholarship, I did the same thing. My dad nearly cried (although he won't admit that) and my mom literally started screaming.
They wanted me to study abroad just as much as I did, and to tell them that it was happening without a heavy financial burden felt absolutely incredible.
---
"With the scholarships, I have been able to travel, to learn, to explore; to have this experience that I know will continue to impact me for the rest of my life." -Sophia Crisafulli
---
How has the scholarship been significant to you?
When I applied, I thought the odds of receiving the scholarships were slim to none. There are so many smart, driven students in the UC system. I could have easily said, 'There's no way I'll get the scholarship, so why apply?" But I put in the work, went for it, and made it happen. I think that is such a valuable lesson in of itself.
With scholarships, I have been able to travel, to learn, to explore; to have this experience that I know will continue to impact me for the rest of my life. I'm visiting countries I have always wanted to visit, reading literature I've always wanted to read, and learning so much about myself and the world.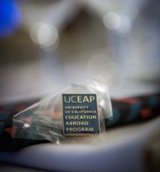 What has your experience abroad been like? What are some of the things you've done abroad?
I joined an amazing improv team as well as learned how to produce a radio show, and I've racked up quite a few favourite food places from Indian food (Dishoom) to doughnuts (Crosstown).
One of my favourite London activities is the Sunday Market at Brick Lane. There's food, crafts, vintage clothing, street art - it's amazing. I'm also in love with the British Museum. The building itself is stunning, not to mention the actual artifacts - like the Rosetta Stone.
I was also completely blown away by the Cliffs of Moher in Ireland. There are really no words to describe how spectacularly beautiful (and windy) they are.
Clearly, it's been an amazing experience so far! 
Anything else you would like to share with prospective donors about the impact of study abroad? 
To anyone who has donated to any kind of scholarship fund, I want you to know how valuable and how appreciated your aid is.
It's important to give driven students the aid they need, because studying abroad will undoubtably change them for the better. Living in London has forced me to look at my own life and beliefs through a new lens, and it has opened me up to so many new adventures. I learn something new every day in London, and with each trip to a new country or city, I expand upon my understanding of the world. Every student deserves to have this experience.
---