About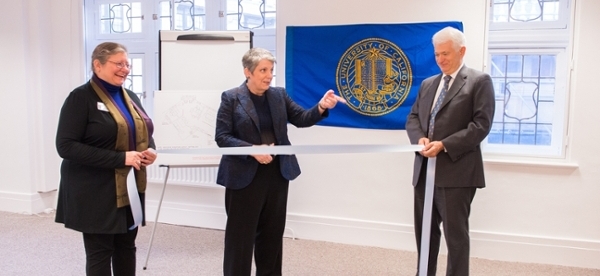 Vivian-Lee Nyitray, Executive Director UCEAP, Janet Napolitano, 20th President of University of California, and Gene Block, Chancellor UCLA
The University of California Trust (UK) was established in 1999 by California Governor Gray Davis and UC President Atkinson as a joint initiative with the California Trade & Commerce Agency. 
A registered British Charity (No. 1075405), the Trust facilitates charitable giving to all 10 UC campuses. Donors from the UK and European can access tax-effective giving options to any funds or scholarships at the campuses. This includes funding to advance medical research, study abroad scholarships, climate change research – among so many others! 
In 2008, the University of California, Los Angeles became a shareholder of the UC Trust (UK) with the goal of creating a development office for Europe. Janet Napolitano, Vivan-Lee Nyitray, and Gene Block opened the Trust's office in Holborn, London, in May 2016 [as seen in the photo above]. In 2020, the University of California, San Diego became the second UC campus to become a shareholder.
The UC Trust (UK) is governed by a board of trustees.